September 9 is National Foundation Day in North Korea, a day marked with parades and celebrations. 2018's National Foundation Day was special: it is North Korea's 70th anniversary. To celebrate, North Korea held its first Arirang Mass Games in 5 years and put on a massive military parade. This post will examine the meaning and symbolism of each event, using the 70th anniversary to show how the mass games and military parades can act as a window into the thoughts on foreign policy in North Korea.
Mass Games: the Events of North Korea's 70th Anniversary
Arirang Mass Games have played an integral role in North Korean society as markers of major holidays and celebrations, and have become a major part of the foreign policy platform of North Korea, usually showcasing major themes through art. As a pillar of its foreign policy, "it is no surprise that the themes of Korean division, unity, nationalism, and reunification appear more frequently in this symbiosis of art, physical culture, and ideology than any other issue (Udo Merkel)[1]. Kim Jung-il reiterated the prominence of mass gymnastics as a pillar of foreign policy, saying the games "make an active contribution to the development of friendly relations with other nations." During the speech, Kim Jung-il also highlighted the domestic aspects of the games, describing how they can instill proper communist thought in schoolchildren (On Further Developing Mass Gymnastics)[2]. In 2018, the games highlighted a newly emerging aspect of North Korea's foreign policy: diplomacy. There was a noticeable absence of military might at the games in 2018 (The Atlantic)[3]. As North Korea seeks to showcase a political agenda through the mass games, there are other reasons for the importance of the mass games to the North Korean elite.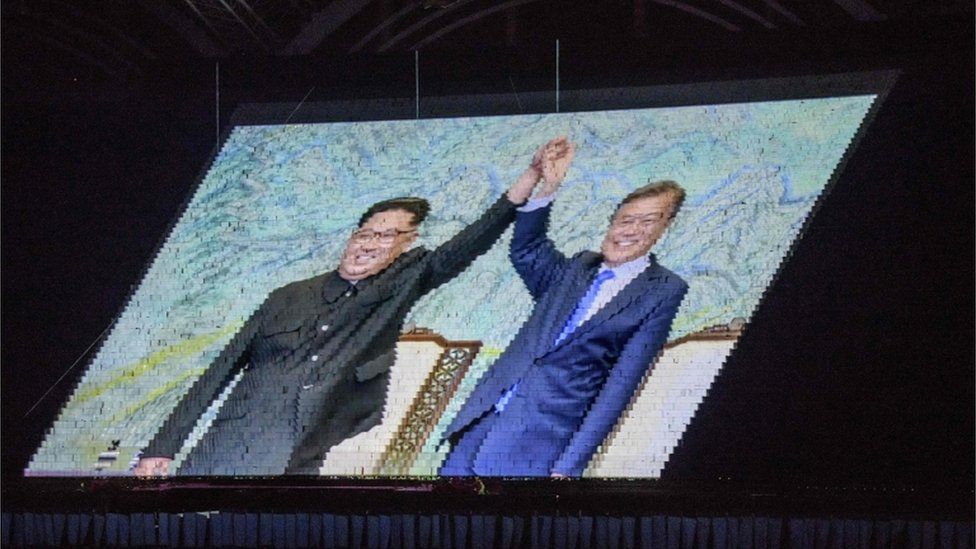 A key driver in the North Korean economy is the ability to bring in foreign currency. Not surprisingly, the mass games are a ticketed event which draws in plenty of tourists and foreign cash. According to Visit North Korea, a travel agency, tickets cost anywhere from €100-€800 ($115-$925 USD)[Visit North Korea]. Tickets to the 2013 mass games–North Korea did not hold mass games from 2014-2017–were €80-€300 [Korea Konsult]. The United Nations even labeled the mass games "a major source of foreign currency revenue for the DPRK" (UN Commision of Inquiry Report 2014). As sanctions continue to bite, the mass games will provide an efficient, guaranteed flow of cash to North Korea's struggling economy as tourists flock to catch a glimpse of the "hermit kingdom."
Though the mass games draw in tourists, their effect is muted at best among regular North Korean people. Inside Pyongyang, most residents do not have expectations for the games and they create stress on the parents and students mobilized to participate (DailyNK). Outside Pyongyang, people were more focused on their daily life. Residents in North Hamgyong Province were mobilized to work and governmental meetings were held in Hyesan (DailyNK). While tourism is a big draw to the mass games, North Koreans tend to live as if the games are just another event. After all, calls to sacrifice for the state come often and the games are yet another time when the government calls for sacrifice (DailyNK).
One of the key events that North Korea has used to mark massive celebrations is the aptly named mass games. For the 70th anniversary, the games featured Inter-Korean diplomacy as they told the story of North Korea's 70-year history. Monetization of the games also ensures a steady flow of income for the North Korean regime, even though their effect may be muted on the domestic audience. There is, however, a more frequent event which can reveal more about North Korea's intentions than the Arirang Mass Games: the military parade.
A Parade Worth Watching: What did We Learn From the Military Parade?
A key feature to North Korean celebrations and holidays is the military parade through Kim Il-sung square. The military parade acts a way for North Korea to showcase its intent and capabilities. In 2015, North Korea staged a military parade to commemorate the 70th founding of the Workers Party of North Korea. On display in 2015 were systems central to the North's missile program, including the KN-08 ICBM which, at that time, remained untested; the Musudan; and the Nodong, among other systems (The Diplomat). Though early parades under Kim Jung-un did not showcase groundbreaking technological leaps, they worked in more subtle manners to craft an image of Kim Jung-un as a strong leader and strengthen his legitimacy as the leader of North Korea (NBC News).
Recent parades appear "intended to send a message to the rest of us: The country is seeking a program sophisticated enough to fire a guaranteed nuclear retaliation in any war" (NY Times). In April 2017, North Korea paraded a wide variety of missile technology. The most notable were several large canisters on transporters associated with previous ICBMs (CNN). Though the canisters may have been empty, they showcased "[North Korea's] intent to develop mobile, solid-fuel missiles capable of reaching the United States" (CSIS). In a February 2018 parade, North Korea unveiled the Hwansong-14 and Hwansong-15 ICBM varients for the first time, though they had been tested 3 times in 2017 (Reuters). North Korea has utilized the military parade to showcase its military strength and missile developments.
The National Foundation Day military parade on September 9, 2018, through Kim Il-sung square sought to convey a different message. As diplomacy continues, Kim Jung-un toned down the offensive posturing common with recent military parades. Despite continued advancement, North Korea did not display any ballistic missiles and only paraded conventional weapons and troops through the square (DW). North Korea also left out all references to its nuclear program (Vox). Instead, the event focused on the economic development of North Korea. Before the parade, Kim Yong-nam gave a speech focused on economic development and goals. Workers and nurses marched through the square next to floats touting North Korea's economic advancement in 2018 (Haaretz).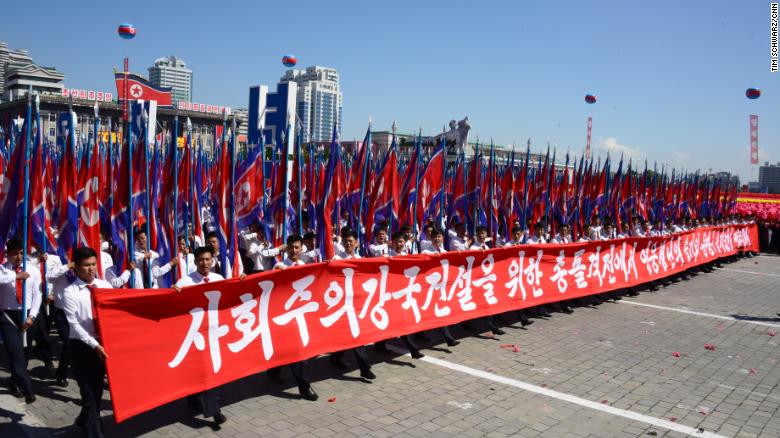 The military parade is yet another pillar of North Korea's foreign policy, taking on a symbolic importance similar to that of the Arirang Mass Games. Under Kim Jung-un, the military parade has been used to showcase offensive weapons development. After a spout of successful diplomacy, Kim forwent displaying aggressive weapons and instead focused on economic development of North Korea. The parade gives the international community a look into how Pyongyang will conduct its foreign policy and what advancements it is looking to make in a variety of fields.
Conclusions
North Korea's 70th Anniversary ceremonies showcased a strong push for diplomatic and economic advancement in a variety of realms. The mass games placed diplomacy front and center, even showing pictures of Kim Jung-un and South Korean President Moon Jae-in holding hands–a similar picture of Kim with Xi Jinping was also displayed. During the military parade, civilian groups took center stage and advanced military weaponry was left out. It is clear that Kim wishes to continue his pursuit of economic development and diplomatic outreach.
By highlighting these two themes, the 70th also showed just how political the mass games and the military parade can be. Not only do they highlight major trends, but they also can give insight into the future of North Korea foreign policy. Though not the only windows into North Korea, they can give a strong indication as to which direction North Korean foreign policy will take in the short-term.
Notes
[1] Merkel, Udo. "'The Grand Mass Gymnastics and Artistic Performance Arirang' (2002–2012): North Korea's Socialist–Realist Response to Global Sports Spectacles," The International Journal of the History of Sport, pp. 1247-1258.
[2] This is a North Korean source.
[3] The Atlantic article has some very good pictures of the Arirang Mass Games in 2018 but does focus on the military parade. One of the biggest highlights of the 2018 Arirang Games was a giant portrait of Kim Jung-un and South Korean President Moon Jae-in shaking hands, which was displayed with Moon Jae-in in attendance at the games. It is the first time a South Korean president's portrait has been displayed in the mass games.